Two British men taking part in a pan-European race have died after their high-powered sports car plunged from Austria's highest mountain pass

The men, aged 22 and 25, were in a Seat Leon that fell 400 metres (1,300ft) from the Grossglockner High Alpine Road near the village of Fusch, 60 miles east of Innsbruck. Both were thrown from the vehicle and pronounced dead at the scene near the Grossglockner, Austria's highest peak.
Police in Austria said the men had been taking part in a race between Brussels and Budapest since 18 July. British motoring enthusiasts have been taking part since that date in the Great Rally, an event which is billed as "1,500 miles of driving heaven", taking in seven European countries over the course of eight days.
A 42-year-old British man who had been in a Porsche later came forward to provide details of the circumstances of the accident, according to police. A spokeswoman said that the Porsche driver had lost the men's car after being behind them at a toll booth. They failed to turn up at a planned rendezvous with him at a glacier further along the route.

He then tried to call them with no response before driving back to their hotel and telling the race organisers, the spokeswoman said. After seeing a helicopter over the mountain road he contacted the police.
While the victims were not named, police said the 22-year-old man was from the south-east of England.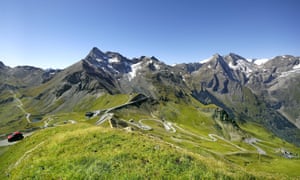 The accident happened at 7.30am local time on a road which is 2,450 metres above sea level and where the speed limit was 62mph. A recovery operation involved a helicopter, the Austrian mountain rescue service and local firefighters.
The 3,798-metre Grossglockner is one of the highest peaks in the Alps. According to the website of the Great Rally, which is a limited company based in the UK, the rally was to reach the Grossglockner on day six.
The website says: "This fantastic road takes you through the heart of the Hohe Tauern national park and to the Grossglockner itself, the highest mountain in Austria and the eastern Alps. It goes with reason that the Grossglockner High Alpine Road is something of a spectacle with its fantastic road surface, 36 hairpin bends and unique surroundings."
The event is a legal one, which attracts participants who also use it for charity fundraising. A professional film crew hired by the organisers also films parts of the rally.
A spokesperson for the Foreign Office said: "We can confirm the death of two British nationals in Bruck an der Glocknerstrasse, Austria on 24 July. We are in contact with the families and are providing consular assistance at this difficult time."